Reefton Integrated Family Health Centre is the home of all West Coast DHB services for Reefton.
Location
Main entrance
103 Shiel St 
Reefton
Aged care and accessible entrance
120 Broadway
Reefton
Postal address
PO Box 68
Reefton
If you are unsure which entrance to use, call our friendly receptionists on 03 732 8605
Open Hours
Day
Opens
Closes
Monday
8:30am
5:00pm
Tuesday
8:30am
5:00pm
Wednesday
8:30am
5:00pm
Thursday
8:30am
5:00pm
Friday
8:30am
5:00pm
Saturday
3:00pm
4:00pm
Sunday
3:00pm
4:00pm
Statutory
Holidays
3:00pm
4:00pm, except for Christmas Day
Enrolments & GP Fees
Enrolments
If you live in Reefton or are staying for a while, we encourage you to enrol with the practice.
Enrolment is free, and means you can get cheaper healthcare when you need it.
GP Fees
Lower cost general practice visits for children aged 13 years and under.  We are changing things to make visits to this general practice more affordable for your family and whānau.  Find out more…
A full list of fees is available for all West Coast DHB GP clinics including Reefton IFHC.
Enquiries and feedback
We welcome your feedback about our services and your experiences at Reefton IFHC.
Note: We are unable to provide medical advice to people by email. Please contact your doctor or the person in charge of your medical care.
Bookings and appointments
Booking and appointment with us is easy! You can make appointments to a doctor Monday to Friday 08.30 – 17.00 hours by calling us on 03 732 8605.
If you are unable to get a doctor's appointment we have nurse appointments available every day. You can also attend out walk-in clinics during working hours. To find out when these are held, call us on 03 732 8605.
Reefton IFHC facilities at a glance
Disability car parking only
Disabled & Visitor toilets
Visitor information reception
Four tips to help prevent infections when visiting a patient in a ward
1) Don't visit any patients if you are feeling unwell
2) Use the alcohol hand rub at our hand hygiene stations
3) Avoid sitting on a patient's bed – please use chairs provided
4) Don't use patients only toilets on hospital wards
Car Parking
Parking is free and plentiful all around the building.
If you don't have a car or other form of transport
If you don't have a car or other transport and it is too far to walk to Reefton Integrated Family Health Centre, our District Nurses may be able to visit you at home.
Community organisation Reefton Who Cares can also help people get to health appointments.
Reefton Who Cares
14 Mace Street
Phone: 03 732 8631
Drop off zones
If you are a patient you can be taken by car to be dropped off at the hospital main entrance, there is a car DROP-OFF ZONE for patients just outside Reefton IFHC.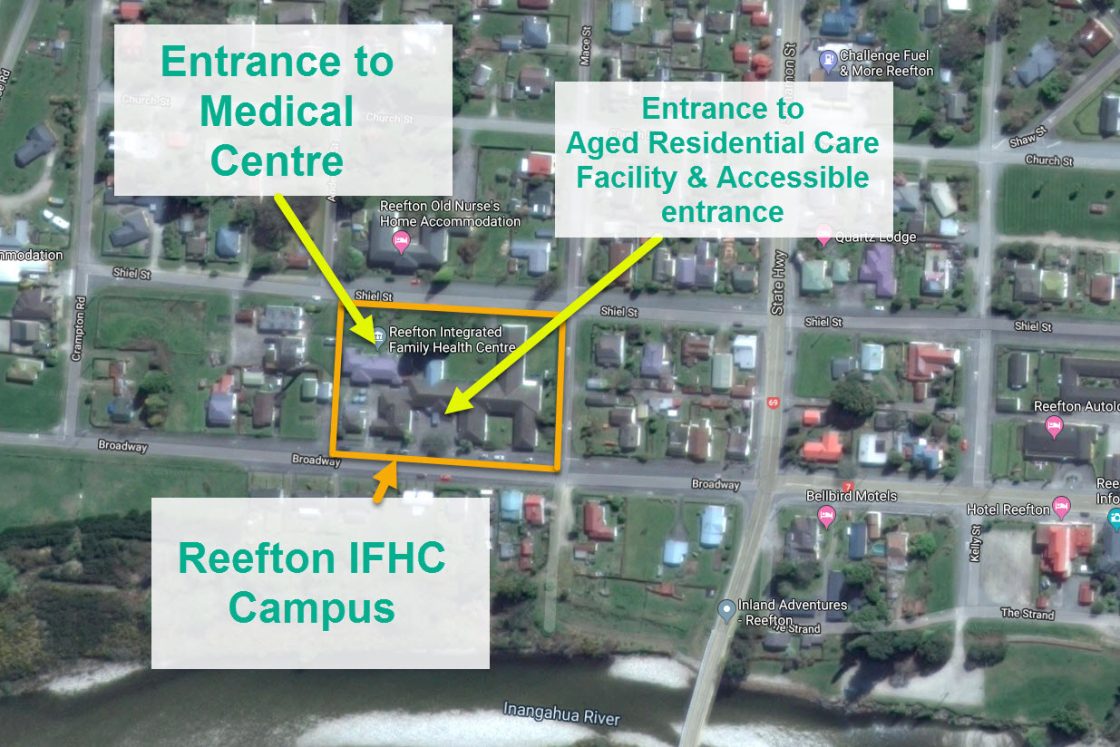 Please note:  The Google Map has not been used in this section due to it currently being inaccurate and out of date.  The Reefton Integrated Family Health Centre isn't a hospital.  For accessing urgent ED services please call 111.  Grey Base Hospital in Greymouth is the only hospital facility on the West Coast that provides ED services.
Urgent & acute health care services are available at Reefton IFHC.
The closest emergency department is situated at Grey Base Hospital in Greymouth.
The Reefton IFHC team works closely with colleagues in Greymouth to provide seamless care.
Our services
Blood pressure checks
Chronic care management
Diabetes management
District nursing and home visits
Driving license medicals
ECG heart checks
General & family medical care
Help to stop smoking
Insurance medicals
IV infusions for osteoporosis treatment
Liquid nitrogen & cryotherapy
Men's health
Minor accidents
Minor surgery services
Palliative care & Advanced Care Planning (ACP)
Plastering fractures and broken bones
Post-surgery care
Referrals for specialist services and clinics
Sexual health screening
Skin cancer and mole checks
Spirometry lung function tests
Subsidised chronic care management and care plus programmes
Suturing (stitching) wounds
Vaccinations (all childhood vaccinations)
Well Chile Tamariki Ora checks
Women's health including a nurse cervical smear taker
For further details please phone Reefton IFHC reception 03 732 8605.
Page last updated: 17 April 2019